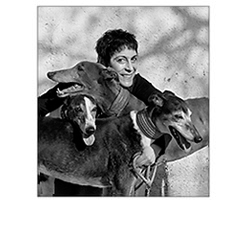 Photographer Barbara Karant is nationally known in the design, art, and architecture communities for the artistic beauty and the level of photographic quality she demands in her work. In addition to her commercial work, Barbara has been published, exhibited, and been awarded by some of the nation's most prestigious museums, galleries, magazines and institutes. Her work is represented in many permanent museum and private collections both in the US and abroad.
Her canine photography stems from her absolute devotion to the greyhounds. Barbara is passionately committed to working to educate the public on the marvels of living with the retired racing greyhound and actively involved with their adoption as President of Greyhounds Only, Inc. She is also a partner in Snob Hounds cutting-edge canine clothing and accessory company. She resides in Chicago with her 3 greyhounds: Slim (13), Turtledove (almost 11) and Fancy (5 ˝). She will always carry the loving memory of her heart dog Easton adopted from Greyhounds Only 11 years ago, who through her devotion changed and enriched Barbara's life forever.
Barbara welcomes creative collaborations, which utilize her skills and talents whether architectural, interior or canine.