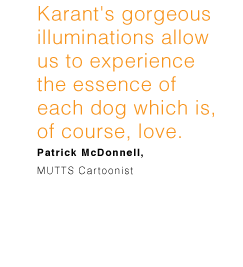 "When I first saw the photographs of Barbara Karant, I was stunned. Her marriage of the greyhound's line with transparent light, makes the images at once so immediate and iconic that even strangers to the breed feel they know these dogs. Feel they understand what it might be like to be among them."
Alice Sebold,
author of
The Lovely Bones.
"Barbara Karant's love and respect for greyhounds shines through in her stunning photographs. She has made her greyhounds personal while also celebrating their majesty."
Alan Lightman, author of Einstien's Dreams.
"Barbara Karant's exquisite photographs capture Greyhounds in every conceivable mood, from silly and playful to mysterious and soulful. She has presented a fitting tribute to this noble breed."
Cynthia A. Branigan, author of Adopting the Racing Greyhound and The Reign of the Greyhound
"For centuries Greyhounds have been portrayed in contemporary art, on the hunt or racing around a track, their speed and power always on display. Barbara Karant's photographs captivate us with elements which most artists have missed: each creature a charming, sweet, elegant, dignified individual."
Michael McCann, President, The Greyhound Project, Inc.
"Every Greyhound I have met has been unique – from big, goofy boys; to imperial, imperious divas; to intense, single-minded competitors; to bright-eyed, adventurous adolescents; to wise, old souls. If Greyhounds could talk and tell their own stories, they couldn't tell them as well as Barbara Karant's lens captures the essential nature and character of these exceptional dogs. "
Joan Belle Isle, Past President, The Greyhound Project, Inc.
"Like her exquisite work with architectural environments, Barbara Karant's new book demonstrates her ability to unmask the hidden inner life of her subjects; to find character where others have only seen form. Her sense of composition dramatically underscores a world of mystery, speed and elegance… a truly virtuoso performance… breathtaking."
Paul Florian, Florian Architects.
"In the many photo-shoots that we have completed together, the Barbara Karant I am familiar with is always trying to limit the degree to which people, weather and the serendipity of nature in all its forms intrude on her photographic vision. Barbara's stunning photos of her beloved greyhounds reveal another side to her art. These lively and spontaneous images capture the dog's spirit, agility and energy. You get to know them as dignified and playful individuals, stripped of generalizations. She's been telling me about her dogs for years, but a few minutes with these magnificent photos conveys more about her love for the breed than the miles she has walked, run or biked to "save the greyhounds."
Avi Lothan, DeStefano + Partners.
"A long time ago on what now seems a planet far far away, Sports Illustrated was holding forth on the 1984 Los Angeles Olympics. They were offering conclusions about American cities, and made the point that cities had an embedded attitude - Los Angeles' would not suffer losers. They contrasted LA with New York which in their view will not suffer fools. The underlying implication of Barbara Karant's transcendent photographs of all these dogs, is that they are all in danger of being lost in a culture which does not appreciate their value. But the true message embedded in the eyes of these animals is a dignity that defies expectations. They are not fools."
Joe Valerio, Valerio Dewalt Train Associates.